Array
Array is a first aid kit that is transparent and organized for consumers to easily see what products and tools are available inside and to easily pick up them up by simply pulling out the slot. Array can be stored in rooms, kitchens, workplaces and cars. Also, each item can be easily refilled by purchasing the items, simply ripping off the packaging, and sliding them in the slot.
First aid kit is an essential item to have at household. However, people tend to rarely use the kit or sometimes they forget that they have it in their house.
Research
Today in our world, 38 percents of households have a first aid kit at home. Out of 5 households, only 2 households have a first aid kit ready to be used. However, furthermore in the research,
38%
of households have a first aid kit at home
8%
of the people who have first aid kit, check their kit
3X
likely to have an accident in your home than outdoor
4 out of 10
houses have expired antibiotic products in their kit
Not Clear
It is quite hard to see what's inside of the first aid kit. If a consumer needs an item, then it's not there because they didn't refill it.
Unorganized
Because a lot of first aid kit value through how many contents are in the kit, it has a lot of items in the kit. So, it can get really unorganized and messy.
Transparent
Transparency of each item can let consumer see all the items at a glance
Organized
Making all item organized will be visually pleased and will be easier to find a specific item
Easy Refill
Making an easy refill will encourage consumers to refill the kit
Ideation
The inspiration of this model was book shelve. Each slot holds certain items that are from normal first aid kit. In order to use a specific item, the consumer can simply tilt the slot and have access to the item that they need.
Transparency
Further in development, transparency was more emphasized in the model. Also instead of tilting each slots, I wanted to explored how it would feel like and look like when it slides out.
Organization
Focusing more on the layout and organization of the kit. I went on Illustrator and did a visual study of how the first aid kit will look it and how each item is going to be placed to looked organized.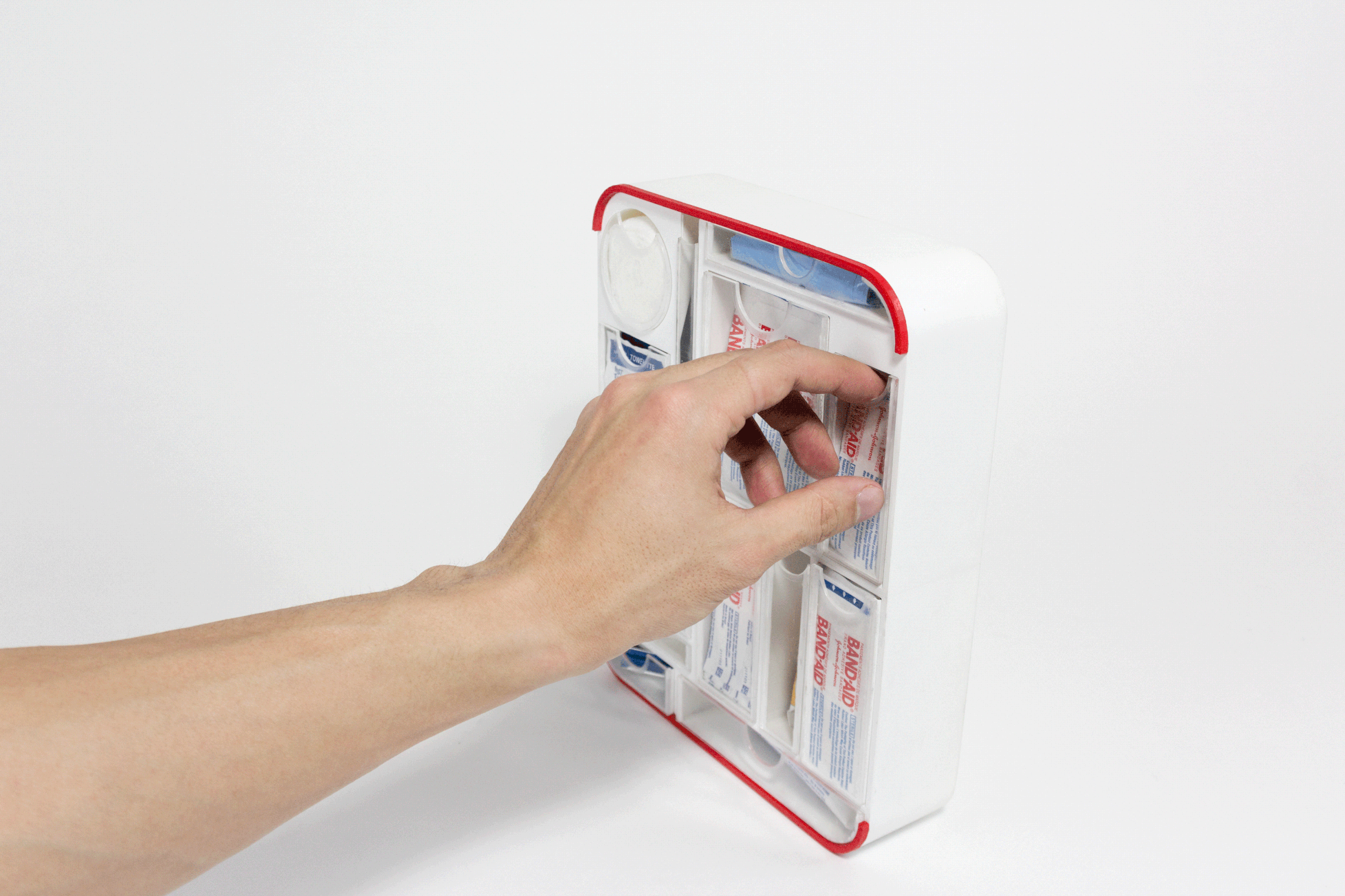 Packaging
The pacakage of the items can be use to easily refill in the kit. After ripping off the package, consumer can simply slide the item's package in the slot.